So basically a couple of your wonderful site runners here were privy to a photo I posted elsewhere of the Zangief 2up Paintmaster and asked if I'd post the image here. I didn't want to just post the one item with no reason to do so other than the fact that it is an absolute freak show of GI JOE pre-production. Which, don't get me wrong, would probably be grounds to post it by itself, as is etc. But I wanted to take it a bit further. When you see the Zangief you'll know why they asked me to post it (more) publicly (than not). It really is quite odd and amusing. The picture was posted because a Joe Customs member (we'll call him Jason Dike) wanted to know something about 2ups..... specifically whether or not 2ups for figures that used pre-existing parts (reused parts) were done as full 2ups or not. My reply to Jason was that 2up sculptures (the original hand sculpted 2up sculpture/pattern) would only have new parts. They wouldn't re-sculpt any pre-existing limbs. Also if a limb was to be identical to another limb on the finished product... then on the sculpture/pattern..... they wouldn't sculpt an identical limb. They'd just leave it blank/"missing" (see: Ferret image below, specifically his feet) since the part that was to be duplicate on the figure could just be hardcopied. As for 2up paintmasters (fully painted 2ups), if the final figure was going to re-use limbs from a previous figure, the 2up paintmaster would NOT have those 2up parts. So for example (as pictured below): Zangief's head is the only thing about him that is new. His body is composed of parts from Gnawgahyde and BAT v2 (oddly enough). So the Zangief 2up paintmaster is literally a 2up head and that's it. BUT with some 2up paintmasters that are just heads or just heads and torsos or just heads and torsos and legs but no arms, they are sometimes accompanied by 1:1 scale (3 3/4 inch) limbs (for reference purposes). Sometimes these 1:1 parts are hand-painted. Sometimes they are unpainted. Sometimes the 1:1 parts do not accompany the 2ups. All depends on what was preserved. Now, sometimes a hardcopy of a 2up was made using archived 2up parts. So, for example, the Steel Brigade 2up that Hasbro dug out of their vaults for the Orlando JoeCon panel (not pictured)...... while the figure is mostly composed of reused parts, a hardcopy was obviously made using ALL the 2up parts that make up Steel Brigade and that 2up was painted. This is rare as far as we can tell as there really is no "need" to do a full 2up of a character that already has parts produced/in china/ready to go/etc/etc. For example there's no reason to do a 2up paintmaster of a simple repaint that uses no new parts. BUT there are some rumors that such things exist. 2ups of repaints. Most likely done for catalogs or archival purposes as far as we can tell. Assuming such things actually exist.
So ……basically after being asked to post a picture of Zangief, I decided I'd just go a bit further and ask my friends if they'd be willing to let me share some of their 2ups (mostly 2ups with "phantom" limbs). So a very special thanks to Chris "TOPSON" Murray, Brian "nova" Kauffman, Kevin "KrymsynGardImmoral" Watts, and to an anonymous "donor" for letting me post pictures from their collection.
It should be noted, in regards to nova's Dial-Tone 2up that the 1:1 chest, head and helmet are parts that nova himself cast from a Production Figure......for display purposes.
And that "the Arms seem to have come from a Sonic Tunnel Rat (based on the paint chips at the shoulder and rivets....also no camo paint apps on the wrists." -nova
Also "the Legs and Waist are from a Production Clean Sweep figure." - nova
And in regards to Chris Murray's Space Shot 2-up: "the hand painted 1:1 legs, arms, and waist piece have been assembled with a custom clear cast of the torso and head (by nova) for display purposes. So, the clear parts of the figure behind the 2-up are not a production/prototype piece. It is a custom created for the display of the prototype pieces. To the right of the 2-up and sorta behind it is a primered white 1:1 resin for Space shot and behind that is my Banzai Test shot." - Chris Murray
Obviously any and all questions are welcome. And if you'd like more information on 2ups and other pre-production glossary terms:
http://joeintel.com/subcategory.php?cat_id=7&id=
I suppose though we should start with the core of a 2up. The skeletal armature on which 2up sculptures are....well.... sculpted upon. This is called a sculpting buck or STANDARD sculpting buck. (Despite being Joe Customs I will try not to assume that everyone knows what a buck is heheh). With very, very few exceptions..... all GI JOE sculpting bucks are the same size (hence, standard). That being said there are also some strange GI JOE bucks out there that are not so standard. For example the "muscle" bucks which were going to replace the standard buck at some point (or so it was tossed around) but the idea was shot down. "Muscle" bucks were going to be Hasbro's way of saving money during sculpting. If the buck already had muscle and shape to it, then they wouldn't have to pay people to do such detailed, outward sculpting. They had also considered NOT sculpting detail onto the figures (ie pockets, belts, etc). This was also part of the "muscle" buck era which never came to pass. However, the "muscle" buck did find some use with figures like Ryu, Blanka, E. Honda, etc. Mostly barefoot (sometimes), muscular, half-naked Street Fighter figures. It should be noted that the feet of a "muscle" buck have toes (oddly enough), unlike the standard buck. There are also unique bucks like the "Goro" buck which was designed for four-armed figures (Goro, Predacon, Unproduced Thrasher etc) and the "Lobotomaxx" buck which as far as we can tell had the privilege of being used solely for Lobotomaxx. So the first image is of a GI JOE standard sculpting buck. Followed by images of 2ups. Mostly those with "phantom limbs." There are some other examples but most of the images are of 2ups for figures that re-used parts or had identical, duplicate limbs. Again if you have any questions.... by all means ask them.
GI JOE STANDARD BUCK (from the collection of Chris Murray):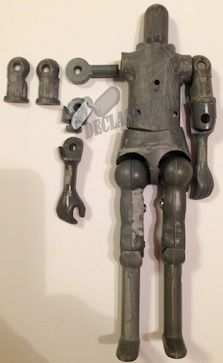 SPACE SHOT 2up Paintmaster (from the collection of Chris Murray):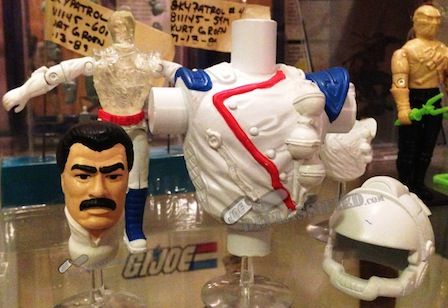 EFFECTS 2up Hardcopy (from the collection of Chris Murray):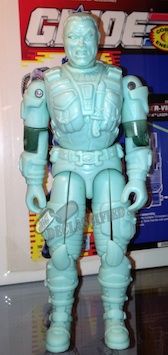 LIFELINE v4 2up Paintmaster (from the collection of Kevin Watts):
SURESHOT 2up Paintmaster (from the collection of Chris Murray):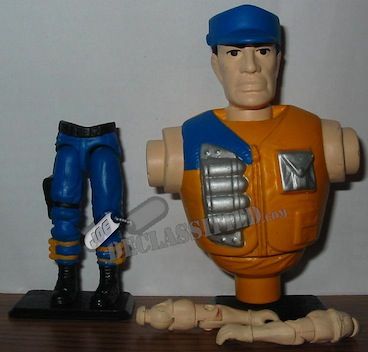 FERRET 2up Pattern (from the collection of Gyre-Viper):
VEGA, BLANKA, BALROG 2up Paintmasters or Paintmaster parts. (from the collection of Anonymous)
GAH almost forgot.... the Blanka head is either 3up or 4up: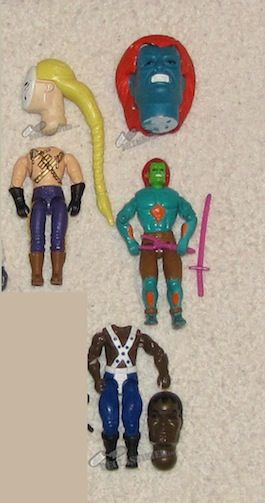 Zangief 2up Paintmaster (from the collection of Anonymous):