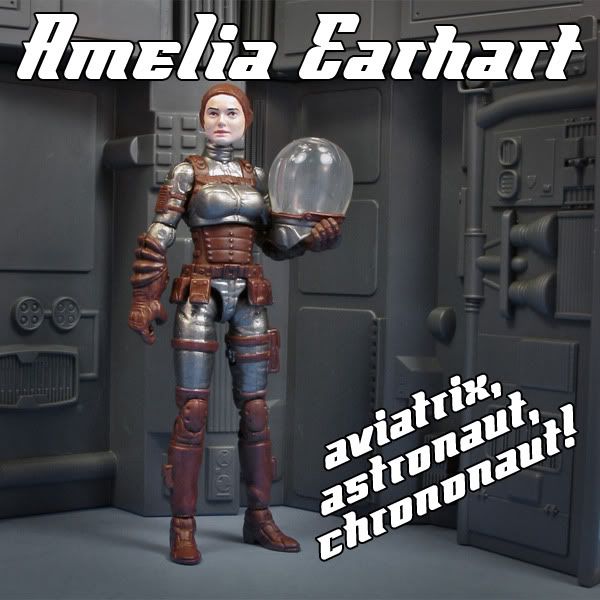 "...and though little is known of the nature of Earhart's recruitment by Howard Hughes, a popular story states that upon locating her and her disabled craft Hughes told Earhart he had come both to rescue her and offer her a job. Insisting she needed no rescue, Hughes replied "Never the less, madame, you are rescued. Now let us discuss the job."
Though never formally a member of the United States Army Astro Corps, Earhart is believed to be one of the main reasons the Axis were never able to establish a strong lunar foothold. Though Hughe's experimental spacecraft were still in the infancy of their development, her innovations in exosphere combat maneuvering were able to deter the seemingly unstoppable Uberzepps of the Axis lunar supply lines.
Earhart would eventually head and train Hughe's all woman Lunar Wing, and be one of the last living beings allowed to visit his isolated "Tranquility Island" on the moon.
Earhart currently acts as Captain of the Oroboros, second only to Lincoln himself in the groups' chain of command. Whether her previous ties to Hughes and his mechanical empire will pose a problem remains to be seen..."
I tried to combine the silver space suits of the Mercury program with the weird time-travel suits from 12 monkeys.
Amelia Earhart
ROC Agent Helix - Body
ROC Viper(various) - Gloves
Star Wars "Snow Bunny" Padme - Head
Clone Wars Space Suit Anikan - Helmet
Alt History Lincoln and Hitler were all the excuse I needed to finally get around to doing some other characters and alt-history concepts I've been toying with for a long time. I may go back and add a bit of gold or brass detailing and give her some goggles on her cap.