Zenobia:
Zenobia (transformed):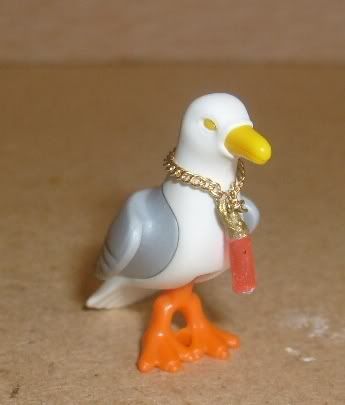 Not Enough!

NOT ENOUGH!
Head: Paris Pursuit Baroness
Body: Saga Luminari Unduli
Right Foot: Quarren Soldier.
Seagull: Playmobil
Sinbad and the Eye of the Tiger was the last of the Ray Harryhausen Sinbad trilogy, and a classic of sword and sorcery, IMO. For those who do not know the character, Zenobia is a witch who transforms her stepson into a baboon so that he cannot be crowned, in favour of her own son. Sinbad takes the transformed Kassim north to Hyperborea to find a cure. In pursuit, Zenobia needs to see the map that Sinbad is using, so she uses one of her magical potions to transform herself into a seagull and flies to Sinbad's ship to spy on him. On her return, she finds that she does not have quite enough potion left as her right foot stays in the shape of a seagull's.
I saw this film on the big screen way back in 1977, and I have enjoyed repeated viewings of it ever since. I may get around to making the Minoton, if I find a suitable head. Might even have a go at sculpting it. The Plamobil seagull is the only one I could find in the right scale.