Day 6:
Action Man , G.I. Jane, Lt. Stone, and Sgt. Savage by HypnoHustler!
Sgt. Savage:
While this figure uses the G.I. Joe Extreme design as inspiration, this figure is meant to pay tribute to the Sgt. Savage line as a whole. I just prefer the Extreme look, since it's a bit more unique, and it was easier to achieve using 50th parts. Sgt. Savage is the only direct link between the Real American Hero and Extreme universes, as several 80s era Joes appeared in the single Sgt. Savage cartoon episode and Savage's origin is confirmed to be the same in the later Extreme cartoon. While Extreme and Real American Hero are intended as completely separate universes, Sgt. Savage gives me all the reason I need to combine the two.
Head:MU Cable
Torso: 50th Bazooka
Arms and Legs: 50th Gung-Ho

Action Man:
In the UK, G.I. Joe was Action Man. Same toys in many cases, but with a name that was less overtly American. As in the US, Joe was quite successful there, outlasting his American run. In the 80s, Action Man became Action Force, which then eventually became G.I. Joe but the 3 3/4th line wasn't the enduring success. In the 90s a new Action Man line was launched, and in this case, Action Man was actually an individual, a James Bond type fighting the villainous Dr. X from a space station with his own supporting cast. The Action Man toyline and cartoon came back across the ocean to the states, but failed to catch on. This custom takes it's inspiration from the figure included in the Toys R Us exclusive Night Force set, which was simply a repaint of the earlier Tracker figure. Prototypes of Tracker in Night Force colors exist, so the reason for the switch to Action Man is a bit odd. Was the Tracker trademark expired? Did they realize they needed to re-up the Action Man trademark? I definitely don't know, but the orange and black color scheme used for the figure is much more appealing than the blue on blue look Action Man sported in his own cartoon, so I went this way for my own version.
Head: Custom Cast
Torso: 50th Cobra Trooper
Arms: 50th Dusty
Legs: 50th Snake-Eyes



G.I.Jane
I believe Jane holds the distinction of being the first ever female action figure. Of course, "action figure" is just a term Hasbro came up with to avoid import taxes on dolls, but it's still a milestone. In the 60's 12 inch line, Jane was a nurse. In an issue of the Marvel G.I. Joe comic commemorating the 25th anniversary of the original G.I. Joe toy, Larry Hama brought back the original Joe and Jane. Jane went back to school, got a PhD, and now runs a secret orbital laser facility based out of the Empire State Building for the military. Not a bad career arc at all. This figure is inspired by the only 3 3/4th in Jane figure, which was included in a Toys R Us exclusive 6 pack. It's a more combat ready look for her, which gives the figure a bit more versatility for me.
Head: Viper Lockdown set
Torso: 50th Shooter
Arms: 50th Lady Jaye
Legs: 50th MASS Device Cobra Trooper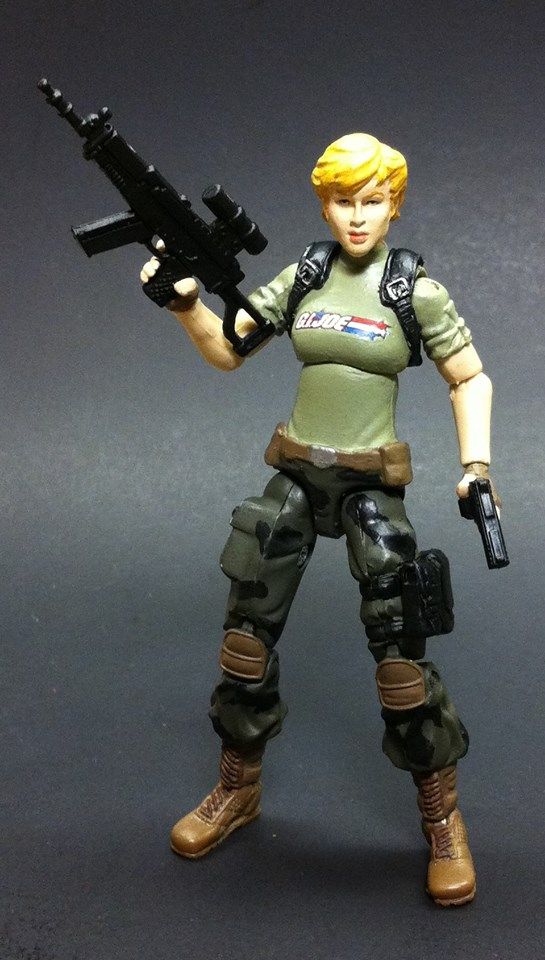 Lt. Stone:
Lt. Stone was essentially the Duke of G.I. Joe Extreme. The blond, crewcutted, fatigue wearing leader. Your basic, unaltered "hero" template. This figure is inspired by his original figure. Not a whole lot to say about him, but as someone who really likes a good chunk of the Extreme designs, if not the toys themselves, you kinda have to have him.
Head: Build N Brawl Chris Jericho
Torso: 50th Chuckles
Upper Legs: 50th Outback
Lower Legs: 50th HEAT Viper
Arms: 50th Spirit upper, 50th Shipwreck lower